If you assign the same people to several projects or use shared resources in your project, it helps to combine all the resource information into a single central file called resource pool. The resource pool is also useful for identifying assignment conflicts, and viewing time allocation for each project.
There are 3 ways to create a Resource Pool:
Create/Update Resource Pool from Online Portal
1. Go to Online Portal Page
2. Sign In with your email and password
3. If you don't have a business created, please read the article about How to Create Your Business.
4. Go to Resources page to add your team members

5. Type the name for each email address
6. Assign Role for each team member

7. After any change, please press Save Changes button
Create/Update Resource Pool when Save plans in My Projects - Drive 365
When any project plan is saved on My Projects - Drive 365 you can save resources from plan in your Team Resource Pool
1. Press Yes in this dialog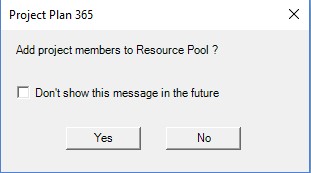 2.Select desired resources in Add People to Resource Pool dialog
3.Press Export button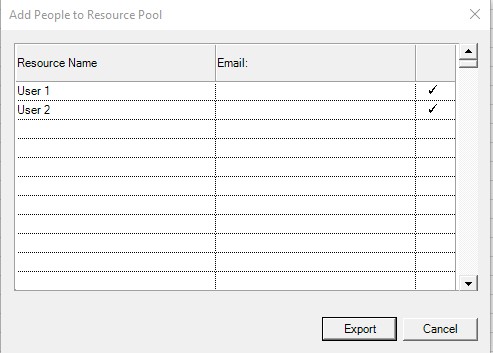 4. If the exported resource doesn't have a valid email address, a message alert will appear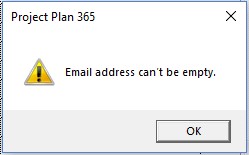 5. Add for each Resource Name a valid email adress(email address is neecesary to set resource account)
6. Resource will be add on Team Resource Pool
7. In Project Plan 365 Portal you will see that the new resources were added

Create/Update Resource Pool from application using Add People to Resource Pool button
Add People to Resource Pool button is available in Resource menu.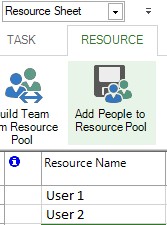 Follow the same Export resource wizard.
Use Team Resource Pool in your plans
A Team Resource Pool can be used in all your plans.
1. Open your project to import resources from the Team Resource pool.
2. Go to Resource menu
3. Select Build Team from Resource Pool button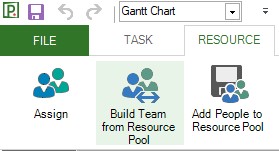 4. From Build team from Resource Pool dialog check/ uncheck desired resources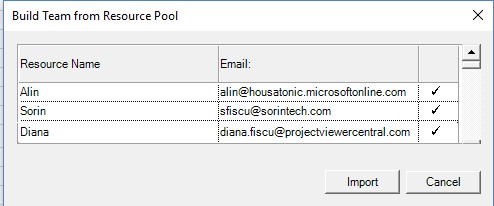 5. Press Import button
6. All selected resources will be imported in Resource Sheet view

7. All Resources can be used in your plan