Open from SharePoint Task List
A SharePoint project task list displays a collection of tasks that are part of a project. A project is typically a series of activities, which has a beginning, middle, and end, and which produces a product or service, such as producing a product demonstration for a trade show, creating a product proposal for stakeholders, or even putting together a corporate morale event.
Now you can add tasks, assign resources to tasks, update the progress on tasks, and view the task information on bars that are displayed along a timeline in your SharePoint task list using Project Plan application.
Go on File menu → Open SharePoint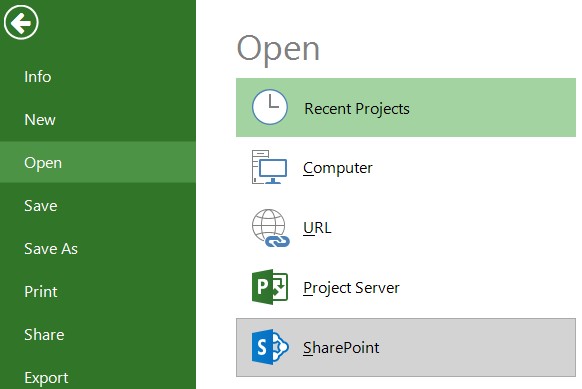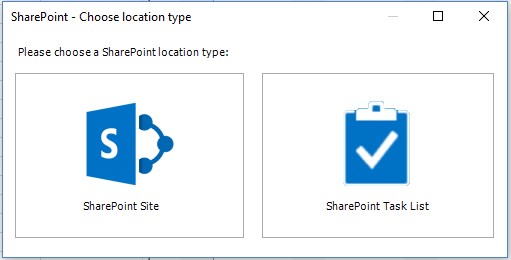 Choose SharePoint Task List
To access Task List plan from SharePoint, enter the URL address of the SharePoint Task List, as seen below. This has to be the URL taken from the browser when accessing the SharePoint Task List (with or without a view at the end). For the example below, all the following URLs are valid:
https://sample-portal1.sharepoint.com/Lists/SimpleTasks
https://sample-portal1.sharepoint.com/Lists/SimpleTasks/calendar.aspx
https://sample-portal1.sharepoint.com/Lists/SimpleTasks/gantt.aspx
https://sample-portal1.sharepoint.com/Lists/SimpleTasks/AllItems.aspx , etc.

If the "Keep me signed in" option is not checked in Office365, the user will be prompted to enter his credentials in order to log into the SharePoint site (inferred automatically from the SharePoint Task List URL entered at the previous step).
Save as SharePoint Task List
Saving a project file to SharePoint Task List is similar to saving a file in any other program.
Click File → Save As
Chose SharePoint, then select SharePoint Task List
Will appear the SharePoint location type picker dialog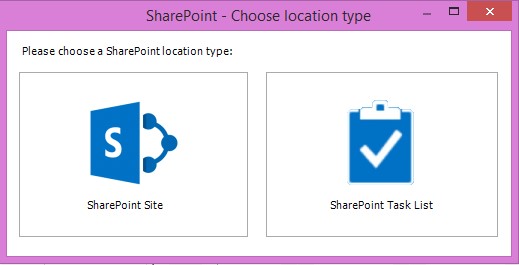 When the user selects the SharePoint Task List option, he will be asked first to authenticate into his SharePoint site, which is stored by the application:

If the Office 365 authentication is successful, a dialog will finally prompt the user to enter a name for the new SharePoint Task List. As specified, the name has to be unique among the site's task lists and it should not contain blank spaces.

If everything goes OK, the Task List will be created, along with the associated project file:
Save (overwrite) a SharePoint Task List
When a Task List is open and updated in Project Plan 365, it can be saved (overwritten) just like any other file, by pressing the "Save" button. Both the Task List and the associated .MPP file in the "Site Assets" directory will be updated.