Most views have a timescale that shows time. You can adjust the timescale to show smaller or greater time units, from hours all the way up to years. For example, you may want to show time in fiscal, not calendar years, or you may want to show Gantt bars across months, not days.
Display the Gantt Chart (or other view with a timescale)
Click Format.
Click Timescale.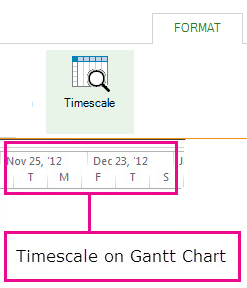 Click the units you want the timescale to show. These will be the lowest level of time on the timescale.
Customize the timescale
Display the Gantt Chart (or other view with a timescale)
Click Format
Click Timescale and then click the Top Tier, Middle Tier, or Bottom Tier tab.
In the example below, we added a third tier to the timescale and modified the top tier to show quarters within a fiscal year.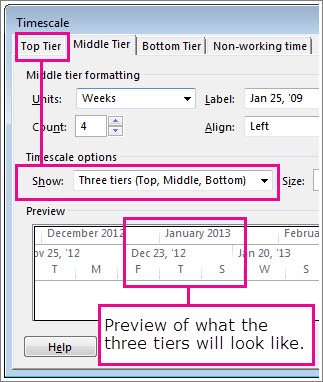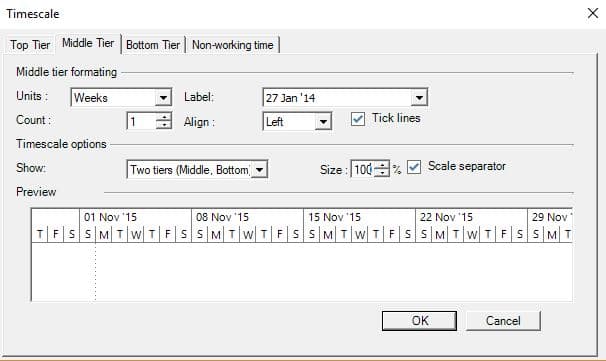 In the Show list, select the number of tiers that you want to display in the timescale. By default, two tiers are displayed.
On the tab for the displayed timescale tier, in the Units box, select the time unit that you want to use. The types of units range from years to minutes [1].
In the Label list [2], select the label format that you want to use to display the time unit.
In the Count box, type or select a number to specify the frequency of unit labels on the timescale tier.
For example, if the unit is weeks, and you type 2, then the timescale tier is separated into 2-week segments.
In the Align [2] list, select Left, Center, or Right to align the label.
To display or hide vertical lines between unit labels, select or clear the Tick lines [2] check box.
To display a horizontal line between the timescale tiers, select the Scale separator [2] check box.
To condense or spread out the columns of the timescale tier, type or select the percentage you want in the Size box.
Two quick ways to zoom the timescale
To focus on a specific time period or group of tasks, or to view the entire duration of your project, click Zoom on the Project menu, and then select a view option.
To quickly magnify or shrink a view, click Zoom In [3] 

or Zoom Out 

[3]
To quickly display a selected task in the timephased portion of a view, click Scroll To [4]

, to show larger time units.
In case the application is meant for mobile devices (phone, tablet) you can perform zoom in the current view by using touch gestures (the zoom will be made with two fingers).
[1] Minutes units are only available in case of Project Viewer for Win PC/Server and Project Plan 365 for Win PC/Server products
[2] This option is available only in Project Viewer for Win PC/Server, Project Viewer for MAC, Project Viewer for iPad, Project Viewer for iPhone, Project Plan 365 for Win PC/Server, Project Plan 365 for MAC, Project Plan 365 for iPad and Project Plan 365 for iPhone products
[3] This option is only available in Project Viewer for Win PC/Server, Project Viewer for Win Web/Server, Project Viewer Online Subscription, Project Viewer for SharePoint Server, Project Viewer for SharePoint Online, Project Plan 365 for Win PC/Server, Project Plan 365 for Win Web/Server, Project Plan 365 Online Subscription, Project Plan 365 for SharePoint Server and Project Plan 365 for SharePoint Online products
[4]This option is available in Project Plan 365 for Win PC/Server, Project Plan 365 for MAC, Project Plan 365 for iPad products