Using the Calendar view, you can review your project tasks in a calendar format. Task bars span the days or weeks that the tasks are scheduled. This familiar format enables you to quickly see which tasks are scheduled on particular days, weeks, or months.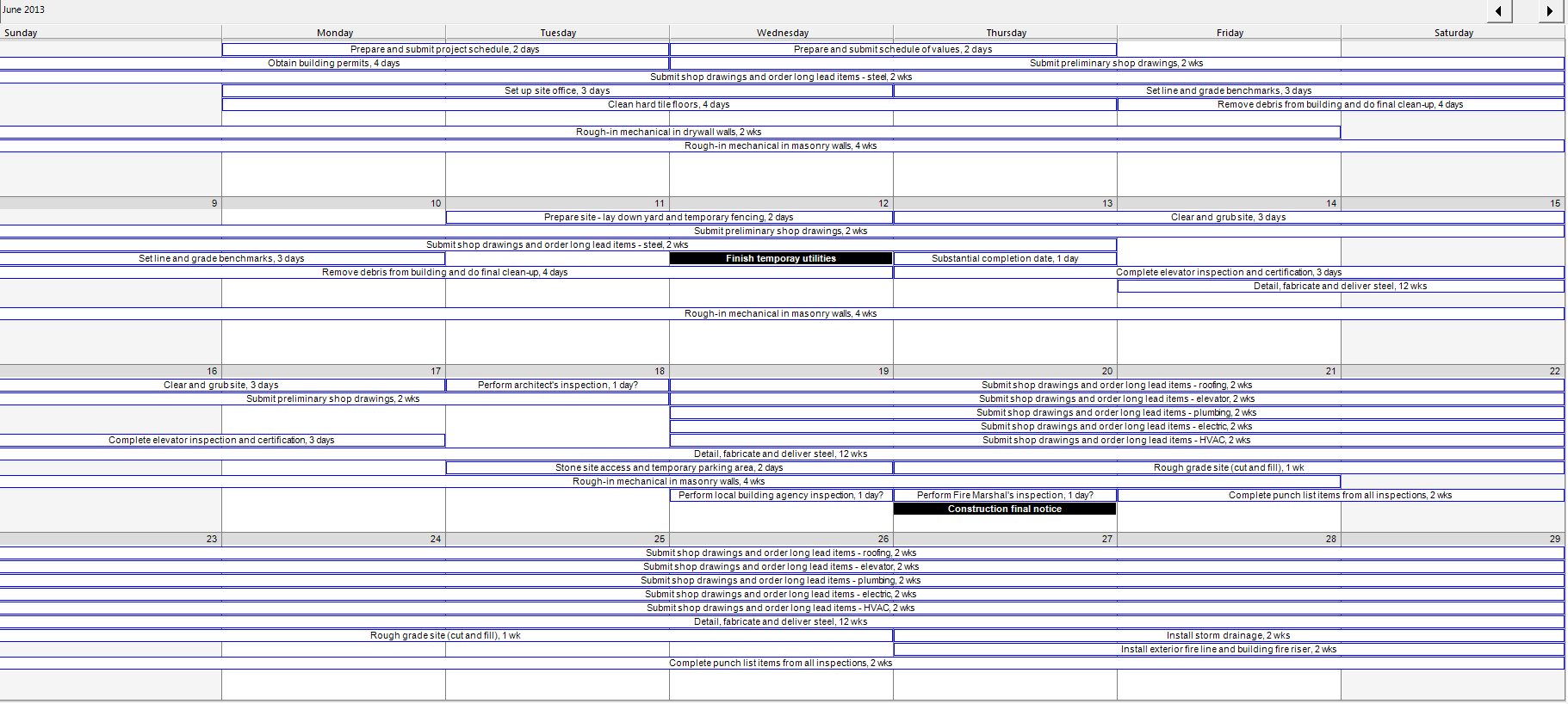 Best uses    Use the Calendar view to:
Show the tasks scheduled in a specific week or range of weeks.
Review the tasks that are scheduled on particular days, weeks, or months.
Additionally, in planner products you can use Calendar view to change start date of tasks by dragging them to start on another day or change the duration of tasks by resizing their corresponding bars.
Customization    To make the Calendar view fit your needs exactly, you can customize its appearance or create a new version. When you close your project, the customized view are lose. To customize the Calendar view, you can:
Create a combination view for the Calendar to display additional information about the tasks shown in the Calendar view or about the resources assigned to those tasks.
Tables    The Calendar view does not make use of any tables.
Filters    The Calendar view can use any of the task filters to display only the tasks you want to see. When you select a filter, the Calendar view displays the information as defined by that filter's criteria. To print a calendar with all of the tasks that a specific resource needs to perform, you can apply the Using Resource filter.
Note that only a limited number of task bars will display or print on a given date in the Calendar view (depending on the row height). To make sure you can review or print the tasks you're interested in, you can apply a filter to display only those tasks before you review or print the Calendar. The default filter is the All Tasks filter.
Sorting   You can apply different sort criteria to the tasks from the Calendar view.
Grouping   The Calendar view does not support grouping.
Zoom in and out
You can zoom out to a bigger picture of your project's tasks, or you can zoom in to see in more detail the tasks taking place in a particular day. Additionally you can choose a custom value for the zoom level.
This is supported only in Project Viewer for Win PC/Server, Project Viewer for Win Web/Server, Project Viewer Online Subscription, Project Viewer for SharePoint Server, Project Viewer for SharePoint Online, Project Plan 365 for Win PC/Server, products
This option is available only in Project Viewer for Win PC/Server, Project Viewer for Win Web/Server, Project Viewer Online Subscription, Project Viewer for SharePoint Server, Project Viewer for SharePoint Online, Project Plan 365 for Win PC/Server, Project Plan 365 for Win Web/Server, Project Plan 365 Online Subscription, Project Plan 365 for SharePoint Server and Project Plan 365 for SharePoint Online products