Description   Using the Network Diagram view, you can review your project tasks and task dependencies as a network diagram (or flowchart). A box (also called a node) represents each task, and a line connecting two boxes represents the dependency between two tasks. By default, the Network Diagram view displays one diagonal line through a task that is in progress and crossed diagonal lines through a completed task.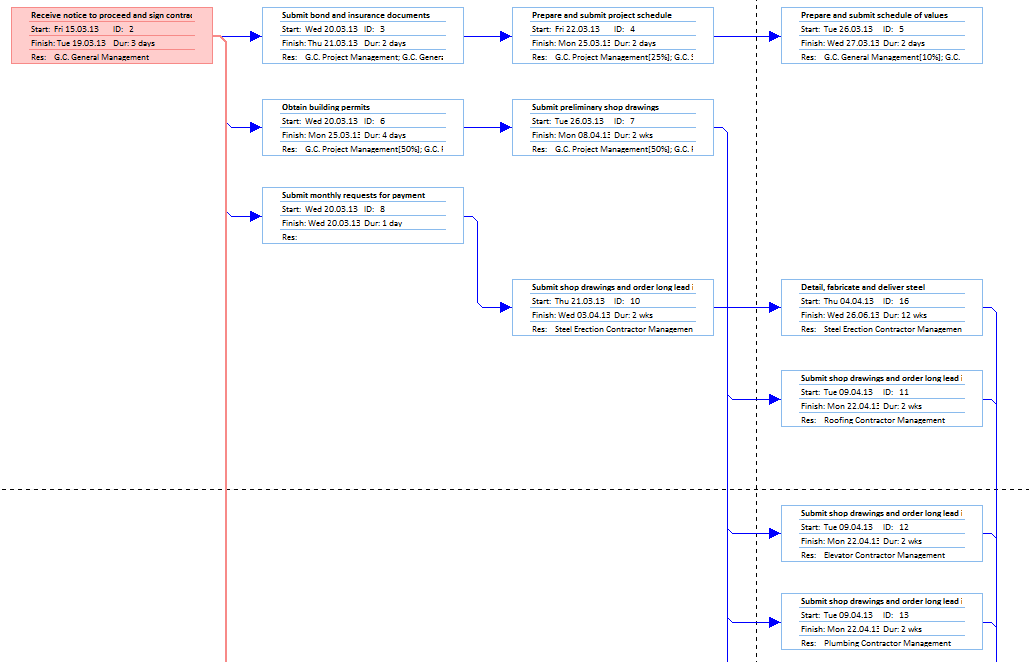 Best uses    Use the Network Diagram view to:
View your schedule in a flowchart format.
View the task information in the network diagram boxes.
View tasks links to specify the task sequence and to determine start and finish
Graphically show completed, in-progress, and not-yet-started tasks.
View assigned personnel and other resources, such as equipment, to specific tasks.
Customization:
Application is able to read the following formatting and style customizations made by the project manager for each of the Gantt Chart views in Microsoft® Project and saved in the .mpp file:
Expand or collapse the network diagram to the level you want to see, by showing and hiding the subtasks of summary tasks.
Create a combination view to display additional information about the tasks shown in the Network Diagram view or about the resources assigned to those tasks. [1]
Tables    The Network Diagram view does not make use of any tables.
Filters    The Network Diagram view can use any of the task filters to display only the tasks you want to see. When you select a filter, the Network Diagram view displays the information as defined by that filter's criteria. The default filter is the All Tasks filter.
Zoom in and out [2]
You can zoom out to a bigger picture of your project's tasks by displaying at a higher level the sequencing of boxes corresponding and the links between them, or you can zoom in to see in more detail the boxes corresponding to your project's tasks. Additionally you can choose a custom value for the zoom level.
[1] This is supported only in Project Viewer for Win PC/Server, Project Viewer for Win Web/Server, Project Viewer Online Subscription, Project Viewer for SharePoint Server, Project Viewer for SharePoint Online and Project Plan 365 for Win PC/Server products
[2] This option is available only in Project Viewer for Win PC/Server, Project Viewer for MAC, Project Viewer for Win Web/Server, Project Viewer Online Subscription, Project Viewer for SharePoint Server, Project Viewer for SharePoint Online, Project Plan 365 for Win PC/Server, Project Plan 365 for MAC, Project Plan 365 for Win Web/Server, Project Plan 365 Online Subscription, Project Plan 365 for SharePoint Server and Project Plan 365 for SharePoint Online products