What does the "Zoom" functionality do?
The "Zoom" functionality allows you to rapidly get an overall picture of how the tasks in your project are linked over the timespan of your project.
Where can I find the Zoom option?
The Zoom option is under menu Project - Zoom.
In what views is the "Zoom" functionality available?
The Zoom option is available in Gantt Chart, Tracking Gantt, Resource Graph, Network Diagram, Task Usage, Resource Usage, Risk and other related views.
Can Zoom be used in Timeline view?
In the Timeline view, you can use the "Zoom" options from the "Project" menu. You can "Zoom in" or "Zoom out" to see the tasks in more or less details.
Is there a way to scale the Task Sheet view?
​On touch-enabled displays, standard zoom gestures are supported. For non-touch displays, we support Windows Display option "Change the size of text, apps, and other items".
How many levels can I zoom in/out inside application?
The Zoom engine currently implements seven levels of details:
1. One week level (the visible unit is one week).
2. Two weeks level.
3. One month level (the visible unit is one month).
4. Three months level.
5. Selected tasks.
6. Entire project.
7. Custom level: the user can select multiples of Days/Weeks/Months/Years to see in the chart panel or in the print preview format.
Step by step on how to Zoom In/Out inside Project Plan 365 app:
1. Go to menu Project - Zoom.

2. Click on the arrow and select Zoom In, Zoom Out or Zoom if you want to zoom on a specific level.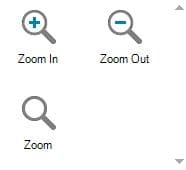 3. Select the desired level and click OK.