Adjust the start and finish dates for all tasks based on the new project start date.
You can change the project start date or finish date whenever you want to, even after you build the project plan.
Click the Project > Move Project.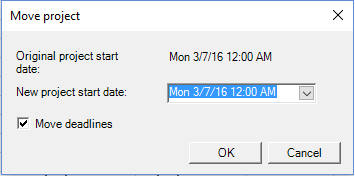 When using the Move Project option you have the possibility to indicate if you also want to move or not the deadlines.
Check – move deadlines – Yes
Uncheck – move deadlines – No
For more information about Move project in Housatonic Project plan click here.