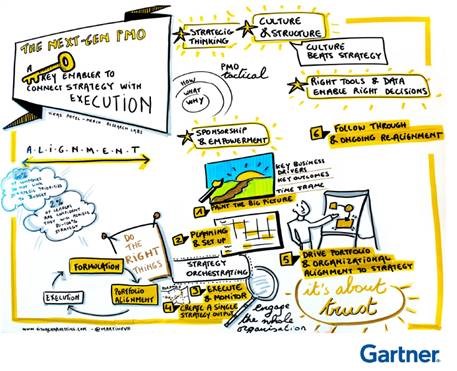 The Project Management Office, or as known in the biz as a PMO, has been evolving within large and medium-size organizations for centuries. However, as with everything else corporate, new technologies are changing the face and features of the typical PMO found within. PMOs are now popping up within small companies, and on an ad-hoc or one-off basis, with small projects being managed by one or two managers in the same fashion as projects tasking hundreds. But before examining this latest trend in the world of project management, let's take a look at where and why they came to being…
The very first record of a PMO dates back to the 1800s, when the British Parliament established a management group to provide governance over the agricultural industry, with a focus on improving productivity, refining taxation policies and increasing exports. This PMO, like all future ones, cross-cut through multiple departments and management teams, and reported directly to the top. Fast forward to the early 1900s in America, where we find the US Government using the PMO concept to control costs and improve transparency within civil engineering endeavors.
By the 1950s, government administrations had established PMOs within NASA, the Coastguard and the National Science Foundation. Most other gov't agencies began to follow suit, with American corporations mimicking this model as well. Within these 20th century corporations, PMOs were formed to specifically benefit the org by:
Early PMO Benefits
Established closer relationships with clients and other stakeholders.

 

Enhanced the org's ability to deliver projects on time, within budget
Standardized governance processes and facilitating the sharing of resources, methodologies, tools and techniques 
Established best-practices, and increasing the capture and sharing of institutional knowledge.
PMO design and structure developed concurrently with the model of project management we find in use today – the "Iron Triangle" of time, cost and quality. As the practitioner community developing this model of project management grew, so did the literature on (and practice of) PMOs expand. For example, by the third edition of the PMBOK Guide (the PM bible compiled by the Project Management Institute), the establishment of a PMO for any project, regardless of size or duration, is recommended by the institute and detailed as a best practice for all organizations doing project work.
With that backdrop, we can better understand the wide variety of PMO structures that provide different services within so many organizations. Sometimes called a Centre of Excellence, Performance Office, or Portfolio or Programme Management Office, the PMO usually consists of lead project managers overseeing the org's work effort and monitoring output in terms of time, cost and quality. Today's PMOs work hand in hand with HR, Finance, QA and C-Level departments to provide them with the estimation, monitoring and reporting that they all need. In addition, PMOs support the personnel doing the work (for example, construction, engineering, manufacturing and production professionals). PMOs act as a hub for standards and guidelines, as well as data-driven best-practices and software tools.
However, the modern PMO is not without problems, despite the benefits described above. In most cases of today's PMOs, they have become part of the political landscape of the organization, and in some cases, a commodity (to be touted or blamed for project performance). Often, a PMO may become just another silo within an organization, hindering its ability to complete a charter of understanding the complex relationships between strategies, projects and organizational structures. (See The Project Management Office: it's just not what it used to be, International Journal of Managing Projects in Business 9(2):282-308 · April 2016.)
In addition, running a PMO can be expensive and when itemized as overhead, subject to budget cuts and other revenue anomalies. As a political body, a PMO is also subject to C-Level criticism when projects go awry, or do not perform as predicted (deservedly or not).
Partially to blame for PMO woes, is the fact that the very best practices for running a PMO originate from a very loud echo chamber of business books, blogs and professional organizations – all mimicking each other, and producing practices that may not be based in science (where a list of functions is selected by successful traits). In other words, PMOs are often established and run based on dubious and unscientifically collected data. So, its no wonder that some small, light-weight and nimble companies often opt to forgo the formation of a PMO altogether – often to their own detriment.
The PMO, Reimagined for the 21st Century
By 2015, it was estimated that more than 75 percent of all small businesses (<$100 million in revenue) had established a PMO, while 95 percent of large businesses (>$1 billion) lead the way. So there is no doubt that the benefits of having a PMO within your small business would include:
Modern PMO Benefits
Increases your bottom line

Improves customer satisfaction

Enhances stakeholder participation
Helps you better understand portfolio performance
Standardizes what works and rules out what doesn't 
Some ask, "Is a major hiring initiative, a large budget and tons of software really needed to realize these benefits?" One member of the Microsoft Project User Group (MPUG.org) thinks not, and PM Gaton expresses his views on a PMO-in-a-Box design here. Basically, his idea is to smartly use software to automate more of the functionality of a PMO, without all the people and expense of hosting a traditional 20th century one.
The idea of providing a low-cost and tools-based PMO environment, where anyone with task-leading abilities could slot into a virtual PMO is not new however, and today, many leading software developers are trying (and failing) in this regard. Examples of new-age virtual PMO environments pop up on the web almost daily, and include the likes of Basecamp, Monday, Trello, Smartsheets, Wrike and a host of others – all attempting to mimic the PMO environment of yesteryear, yet each adding 21st century innovations. These innovations include social networking and cloud computing.
Taking What Works and Making it Better, Cheaper and more Inclusive
Arguably, the most successful project management software of all time is Microsoft Project, which started out as a DOS character-based system back in 1984. Now, after more than a dozen iterations, Microsoft supplies a very elaborate "PMO-in-a-Box" design, known as Project Server / Project Online. The base tool (Project) allows anyone to develop project schedules, assign resources to tasks, track progress, manage budgets, and analyze workloads in many ways traditionally performed by highly specialized PMO personnel.
In addition, Project Server (in conjunction with SharePoint Server and other requirements), creates a platform that many large-scale PMO deployments use to manage portfolio and project data in a distributed and customizable way. However, because of an astronomically high price-tag and burdensome IT-staff requirements, smaller businesses with limited capital are left in the cold, fending off project dilemmas on their own.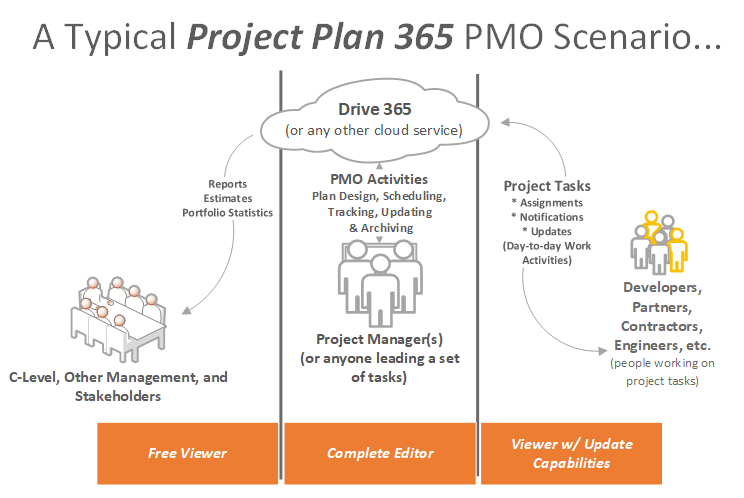 Project Plan 365 Business & Enterprise solutions take what's best from a MS Project Server-based PMO experience, and delivers a like experience more affordable and better suited for very small- to medium-sized business. In addition, Project Plan 365 apps allow Apple users to contribute to the PMO, just like their Microsoft-based brothers and sisters – a support feature that Microsoft dropped way back in 1991.
This allows the small biz owner to achieve PMO goals just as the titans of industry do today, all using a standardized format for their project data. Project Plan 365 users can communicate directly with Microsoft Project users via a single project management "language" and protocol. Considering that over the decades, that wealth of project data worldwide has grown into the petabytes, this common data format has profound implications for big-data mining and other AI possibilities – making the PMO of the 2020s one of the leading influencers in all future business to come.
For more information on starting your own small-business PMO, see www.projectplan365.com.